The maintenance module is an optional add-on to Fleet.NET that allows Fleet Managers to better monitor repairs and maintenance of the vehicles in their fleet. The module has multiple sections, which we break down here for readability.
There are three main section in which information can be modified. As these tabs can be more elaborate, they have their own pages linked below.
Several pages are purely informational, and these are summarized below.
Summary
The Summary tab will update as the vehicles need maintenance. If a vehicle should be on any schedule, there will be symbol to the right of the vehicle name. This symbol will change depending on if the vehicle needs maintenance.
V means that the vehicle does not yet need maintenance.
O means that the vehicle is about due for maintenance.
X means that the vehicle is past-due for maintenance.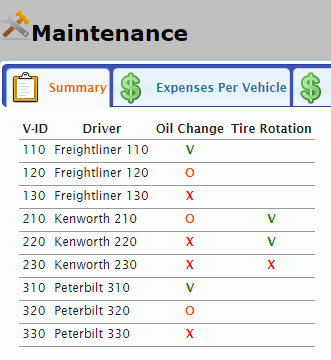 Fleet Expenses
The Fleet Expenses tab allows you to view a breakdown of expenses across all vehicles. This allows you to better monitor and predict maintenance expenses over time.

Assignment History
The assignment history simply displays when the vehicle was entered into the system.
Vehicle Information
The Vehicle Information tab displays information such as the VIN, Brand, Model, Year, License Plate, and any other information that can be entered into the Fleet.NET system.