Alarms serve as a useful tool for fleet managers to monitor their drivers. This guide will cover how to create alarms as well as the various options available.
Steps
1. Enter setup. You may do this by logging in to your Fleet.NET account and clicking the "Setup" button in the top row.

2. Click the "Alarms" tab, and then click the "+ Add New Alarm Rule" button at the bottom of the table.

3. A small window will appear, in which you may enter the conditions for your alarm. Please consult "Conditions" below to determine what you may wish to enter. When you are satisfied with your alarm, click the "Save" button.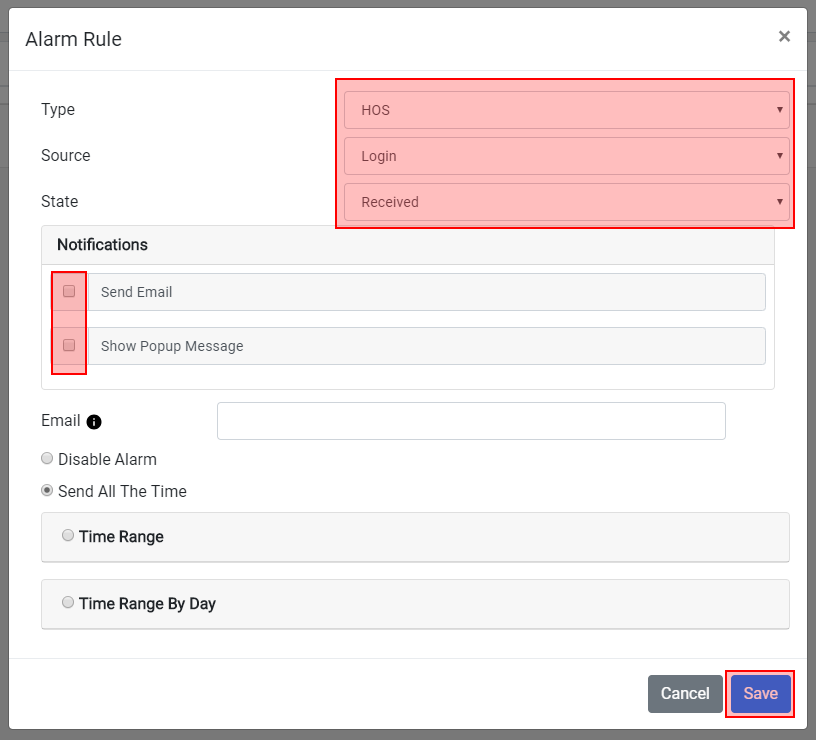 Conditions
Types: For Hours of Service accounts, only the HOS type will have any effect.
Source: This is a list of what will trigger the alarm. For example, "Login" will trigger whenever a driver logs in to DriverLog, "Warning" will trigger when a driver only has one hour remaining in their shift or cycle, and "Switch to Canada" will trigger when a driver begins driving in Canada and must change their driving to conform with Canadian law.
State: Received is the only option for HOS.
Notification: You may request Fleet.NET send a pop-up which you may only see if you are in logged in to Fleet.NET at the time the alarm is triggered. Alternatively, you may request Fleet.NET send you an email when an alarm is triggered. You may enable both options simultaneously as well.
Destination: If you have requested emails be sent when alarms are triggered, enter any recipients here. If you have multiple recipient emails, separate them with commas.
Schedule: You may uncheck the "Send All The Time" box to limit when alarms will be sent or displayed. For example, you may configure your alarm not to trigger on weekends, and only between 6am and 6pm during weekdays.